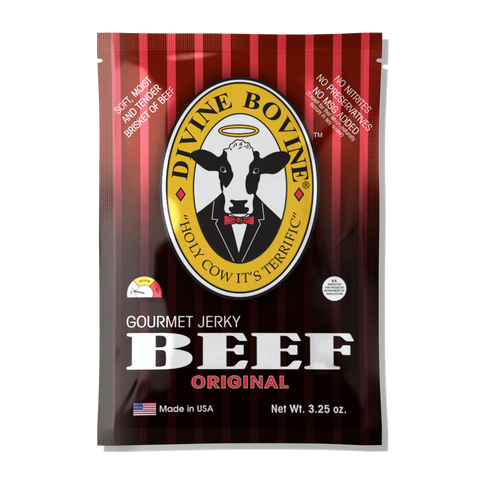 Beef (Original)
Divine Bovine Original Gourmet Beef Jerky is drenched in a mild blend of savory spices and Pops' unique recipe; a hint of garlic finished with a light topping of black pepper.
We only use thin sliced cuts of Premium Quality STEER Brisket of Beef.
Our meat is marinaded for 24 hours in our amazing sauce blends, then cooked to perfection in our state of the art ovens.
We package in a 5 mil fully metalized foil-lined pouch to ensure maximum freshness for a minimum of 14 months.
Order 8 bags or more and receive free shipping.
Order 20 bags or more and receive wholesale pricing. Enter "wholesale" at checkout.